What's Hot? PepperBox Shiraz!
PepperBox Shiraz has flavours of blackcurrant and cherry with a spicy aroma and a silky smooth finish. This stunning Shiraz displays notes of ripe fruit and soft, round tannins. Naturally intense it is the perfect partner for great food and the ideal choice for get-togethers and special occasions with friends and family.
Our PepperBox Shiraz is perfect for Taste Adventurers and so we created the Daring Dishes campaign so you can add some excitement to your meal time. The only thing that can elevate your Friday night steak further is some coffee and a glass of PepperBox Shiraz – trust us!
This rich and intriguing Shiraz is packed with fruit character and our trademark peppery aromas. It's what makes PepperBox the perfect partner for rib eye steak, and why not make your steak more daring by adding coffee to create a delicious crust that enhances the flavour of the meat?
Rib Eye Steak
Rib Eye Steak with Chips and Salad
Potatoes
Olive Oil
PepperBox Shiraz
Coffee Beans
Black Peppercorns
Salt
Red Chillies
Smoked Paprika
Rib Eye Steak
Garlic Cloves
Preheat your oven to 200℃ and place peeled and chopped potatoes with a little olive oil, or ready-made chunky chips, into the oven to bake for 20-30 minutes.
Open your bottle of PepperBox Shiraz to let the wine breathe.
Combine the coffee beans, black peppercorns & salt to a fine ground with a pestle & mortar.
Add the chopped red chilli and smoked paprika to complete the mixture.
Rub each rib eye steak in the mixture and leave to rest for a few minutes to allow the meat to reach room temperature.
Heat griddle on high heat until it's smoking, crush and throw in the garlic cloves and fry each steak 2-3 minutes on each side for medium rare.
Leave to rest for 10 minutes covered in tin foil.
Plate it up basting with the cooking juices and sprinkle with some Maldron Salt.
Serve with chips and a simple green salad on the side.
Enjoy with a glass of PepperBox Shiraz.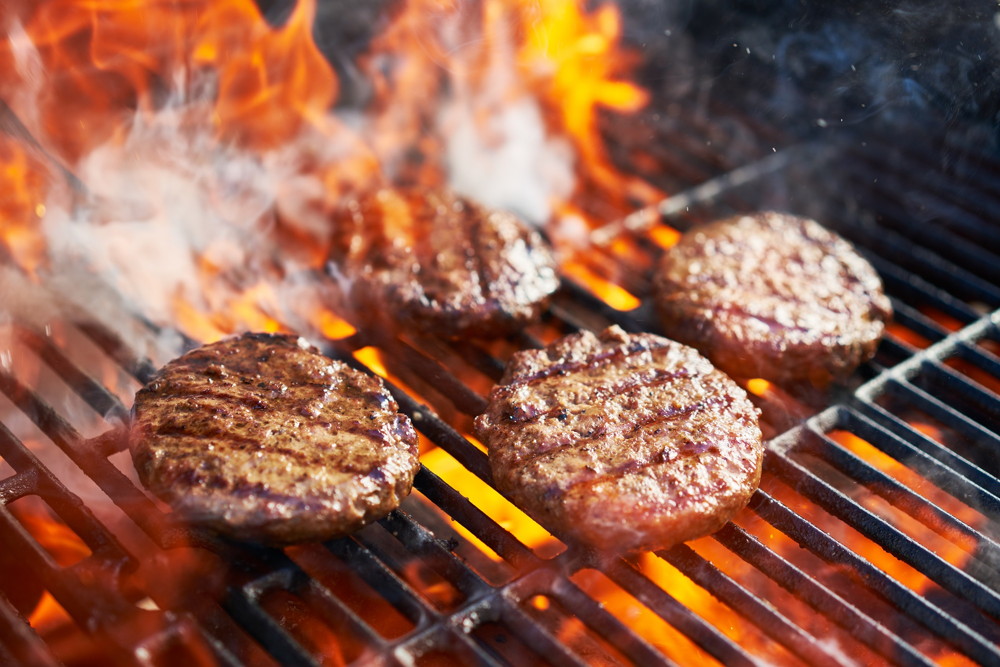 Gourmet Burgers
Or if you're firing up the BBQ this summer why not try our gourmet burgers with a daring dishes twist – cumin! Cumin will add an exotic twist to beef mince to ensure you're left wanting more!
Paprika
Cumin
Chilli Powder
White Onions
Garlic
Beef Mince
Halloumi
Burger Bun
Pepperbox Shiraz
Prepare your spice blend of paprika, cumin and chilli powder. For extra strong flavours use cumin seeds, toast them on a dry pan over high heat for two minutes and then grind them with a pestle & mortar.
In a frying pan heat the oil and add the finely chopped onions, cook until softened and slightly coloured.
Add the ground garlic and spice blend, stir until all liquid has evaporated.
Place beef mince into a bowl and add the onion, garlic & spice blend – mix well together.
Heat a griddle pan or frying pan or BBQ to very hot. Brush burgers with oil and cook each side 3-4 minutes – when flipping the burger over fry or grill the halloumi slice.
Serve your burgers in a bun and build your garnish, pour a glass of Pepperbox and enjoy!